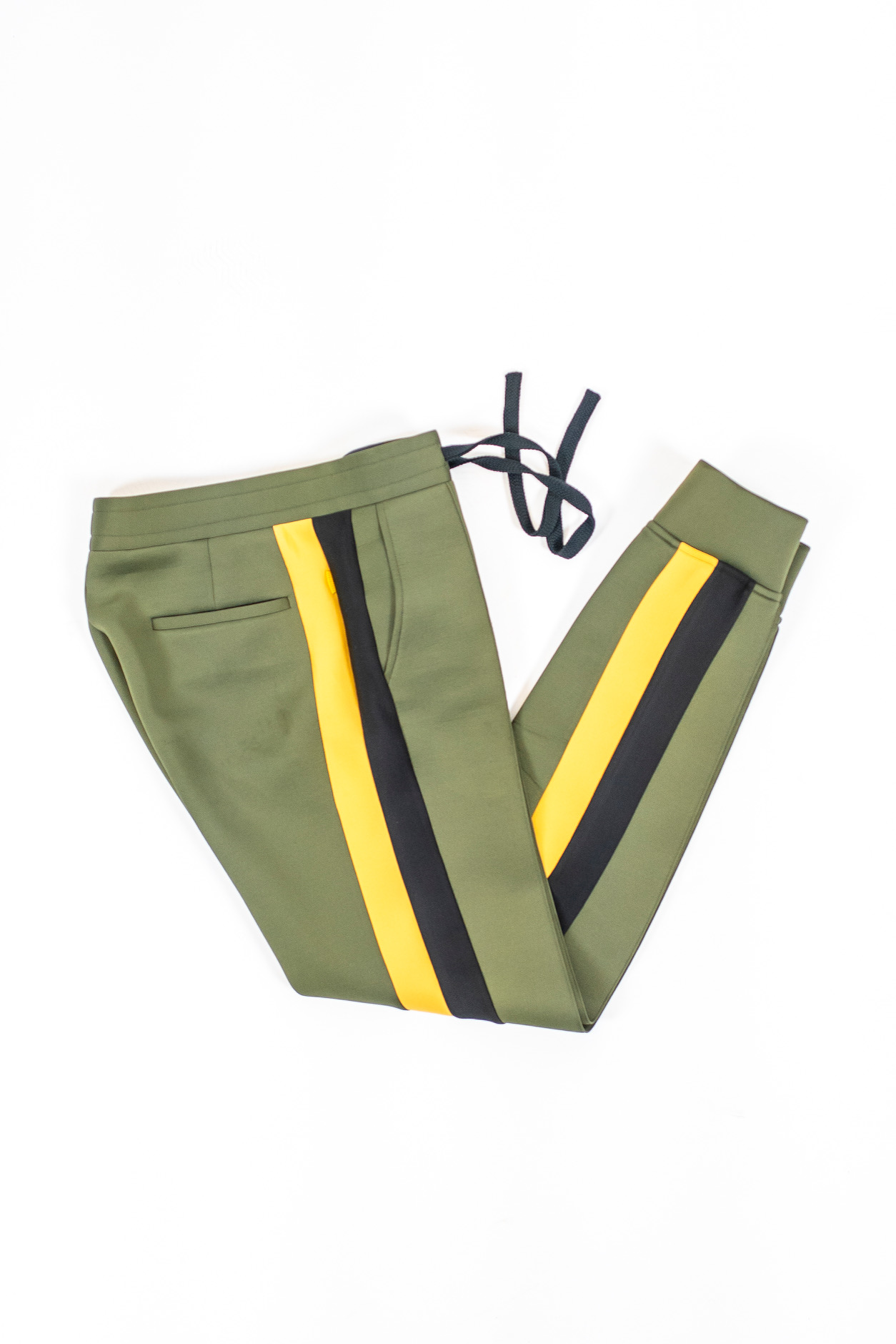 Olive TrackJoggers
Poly Tek Fabric
Drawstring
Zip-fly
Jogger pant-bottom
Signature DoubleStripe
EACH EXHIBIT WILL DROP ON A MONDAY AT 9AM PST. ALL GARMENTS IN THE EXHIBIT WILL ONLY BE AVAILABLE FOR 24 HOURS AND IN VERY LIMITED QUANTITIES. IN ORDER TO PROVIDE THE BEST POSSIBLE END PRODUCT, WE GO THROUGH AN EXTENSIVE FITTING PROCESS. THIS PROCESS INCLUDES:
PROVIDING YOUR HEIGHT, WEIGHT, PANTS SIZE, SHIRT SIZE, ETC.

SKYPE/FACETIME SESSION WITH "FRESH" TO DISCUSS MEASUREMENTS AND FITTING OPTIONS

ONCE ORDER IS PLACED, YOU WILL RECEIVE A "SAMPLE KIT" TO CONFIRM THE FIT AND MAKE SURE WE START WITH THE RIGHT PATTERN. ONCE WE CONFIRM THE FIT, GARMENT PRODUCTION WILL BEGIN

ADDITIONAL OPTION: AFTER SESSION, YOU MAY SEND A CORRESPONDING PERSONAL ITEM TO BE USED FOR MEASUREMENTS
* ALL SALES ARE FINAL. ONCE AN ITEM IS ORDERED THERE WILL BE NO REFUNDS OR EXCHANGES.
PLEASE ALLOW 3 TO 4 WEEKS FROM ORDER DATE FOR DELIVERY. DURING THIS TIME CUSTOMERS WILL RECEIVE FREQUENT UPDATES REGARDING THE STATUS OF THEIR ORDER ALONG WITH PHOTOS DOCUMENTING THE PRODUCTION PROCESS.
sold out